The main goal of the project has been the development, scaling and validation of a multilayer electroless nickel process as an alternative to hexavalent hard chrome coatings (high thickness), which are commonly used in both aeronautical and automotive sectors.
For this project, a high tensile strength steel (300M) and a low carbon content steel were selected as substrates whereas three electroless nickel baths with different phosphorus content (high, medium and low) were selected as potential coatings. Particles of silicon carbide (SiC) and Teflon (PTFE) were also initially chosen to create composites in the outer layer of the coating and thus provide it with greater hardness and lubricity.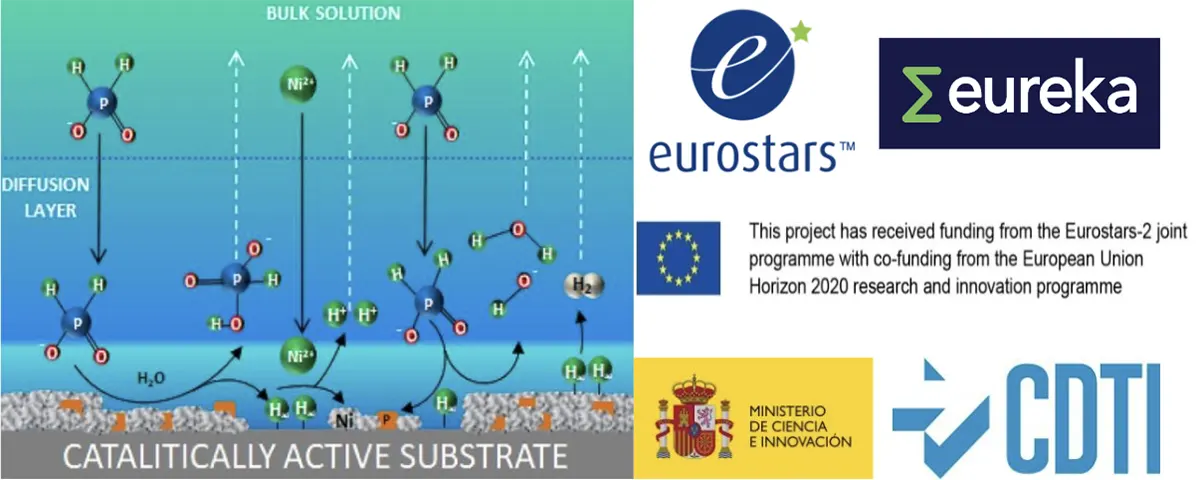 TRUE-REPLACE project achievements
1

Surface activation sequences have been developed for 300M and low carbon steel for both aeronautical and automotive sectors, respectively. The developed and optimised formulations allowed achieving an excellent surface activation, both between the substrate and the first applied nickel coating, as well as between the successive layers in the multilayer arrangement. The adhesion evaluation demonstrated that, once the optimised activation sequences were applied, there were no adhesion failures at any level within the layer architecture. Likewise, the formulations developed have been scaled to an industrial level for their implementation in the plant.

2

New low phosphorus content electroless nickel formulation has been developed that fully complies with the REACH regulation and its obligations regarding the content of substances of very high concern (SVHC). It is a multi-component solution capable of obtaining coatings with properties close to those attained by hexavalent hard chrome. The developed formulation is a robust and stable solution, capable of reaching a useful life of 8-10 MTO (metal turn over), similar to that offered by commercial products currently on the market.

3

It has been possible to stabilise and codeposit nano- and microparticles of different nature (Teflon and SiC) within the newly developed coatings. The particle distribution achieved is homogeneous. The particle production methods have also been scaled to a production volume of 5 L of concentrate.

4

A large number of electroless nickel plating combinations have been evaluated, including multilayer, particle addition, and heat treatment effect. All coatings were produced on an industrial scale in 1700 L tanks at ELHCO's facilities, demonstrating the maturity of the process and the possibility of its rapid industrial implementation.

5

Two types of electroless nickel coatings have been defined, with and without reinforcing particles, as alternative solutions to hexavalent hard chrome coatings, based on the results achieved in terms of hardness and resistance to corrosion in a salt spray chamber.

6

These coatings were applied on demonstrators from each of the industrial sectors of interest, reaching the defined specifications and demonstrating the viability of the electroless nickel-based solution as a viable alternative to hexavalent hard chrome plating.
Consortium and funding
The project has been funded by the Eurostars-2 program of the European Union (international inter-company action). ELHCO has been the leader of the project which was carried out alongside CHEMPLATE, a company that formulates chemical products for electroplating, and SMALLMATEK, a Portuguese company specialising in the development of nanomaterials on demand. In addition, the project has had the collaboration of CIDETEC technology center, which is a specialist in surface engineering. Together, they have formed a consortium with sufficient knowledge and experience to achieve the demanding objectives of the project.