November 8, 2023
In early November 2023, ELHCO participated in the follow-up meeting of the SUSCROM project at the facilities of SURTECH Engineering in La Puebla de Alfindén, Zaragoza. All the consortium partners involved in this project, ELHCO, CHEMPLATE Materials, EGILE Mechanics, and SURTECH Engineering, were present alongside representatives from CIDETEC Surface Engineering, the research center providing technical and strategic support throughout the project.
The project is part of the Aeronautical Technological Program (PTA), which is funded by CDTI and belongs to the Recovery, Transformation, and Resilience Plan of the Ministry of Science and Innovation. The project just completed its first year of life, so thorough evaluations of the work done to date and a forecast of the work that will be carried out in the coming months have been conducted.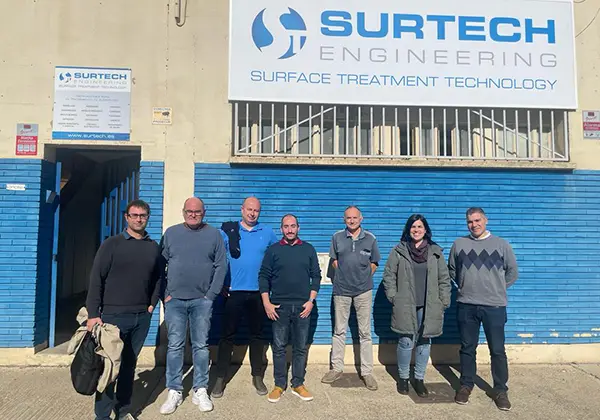 It's important to remember that the main objective of the SUSCROM project is to find an alternative that allows the replacement of hard chrome with more sustainable solutions. The SUSCROM project's strategy was conceived based on the results obtained in the TRUE-REPLACE project and combines well-known processes of chemical nickel and the development of chromium plating process containing trivalent chromium.
Finally, we would like to extend our special thanks to SURTECH Engineering for their hospitality as the host for all the participants of the meeting.