INNOVATIVE SME SEAL IN RECOGNITION TO OUR WORK IN R+D+i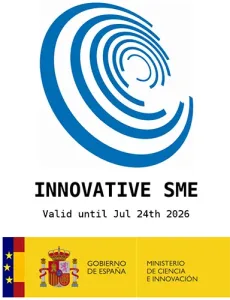 The Spanish Ministry of Science and Innovation has awarded us the distinctive of Innovative SME in recognition to our firm commitment to innovation and to the presence of the company in national and international projects.
The Innovative SME Seal is a distinction that recognizes small and medium-sized enterprises that stand out for their contribution to knowledge generation and the promotion of R&D in Spain. To obtain this distinction, companies must meet rigorous requirements and demonstrate a consistent commitment to innovation and research. Elhco has successfully passed this evaluation process, establishing its position as a reference in the field of innovation.
GENERALITAT OF CATALONIA AWARD IN RECOGNITION OF A SINGULAR ACTIVITY IN FAVOR OF THE ENVIRONMENT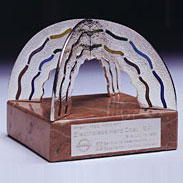 Potentially, galvanic industries can be very polluting, due to their ability to generate waste that contains a significant concentration of heavy metals.
The decisive factor that prompted the company to carry out this project in favor of the environment was the desire to reduce the amount of waste that was generated, through vacuum purification treatments that made zero wastewater discharge possible.
UNIPEDE AWARD IN RECOGNITION OF ENERGY EFFICIENCY IN THE PRODUCTION PROCESS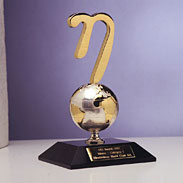 Elhco implemented a pioneering waste treatment system that made possible to concentrate the maximum amount of liquid waste to obtain a solid sludge through a circuit of vacuum evaporators. At the same time, very good quality distilled water is obtained that is reused for industrial processes.
With this system, it is possible to reduce water costs, sanitation fee, amount of reagents, wastewater discharges and 50% of the sludge generated that goes to landfill.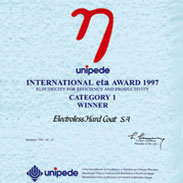 Award from the International Union of Producers and Distributors of Electrical Energy (UNIPEDE, Paris), an association founded in 1925 and present in 57 countries, of which 37 are European.